Every other Sunday our East Radnor Ministry Area will hold a Zoom service at 6pm. You are welcome to join us. Please contact Mark Beaton, Rachael Storer or Petra Goodband to be included.
Click here to download "The Radnor" for November 2023 (File Size 17.6 MB) and for December / January 2023-24 (File Size 26.3MB).
Here is the schedule of services for the East Radnor Ministry Area in December and January 2023-24.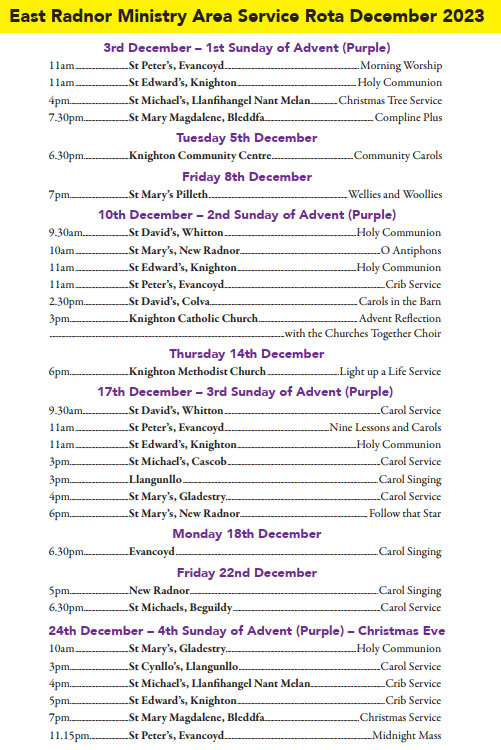 The East Radnor Ministry Area is in the diocese of Brecon & Swansea and includes fourteen churches:
Formerly the four churches at the northern end of the Ministry Area were the Beacon Hill Benefice. They are St. Michael's, Beguildy; St. David's, Heyope; St.Cynllo's, Llangunllo; and St. Mary Magdalene, Bleddfa. The churches are in the Teme and Lugg valleys, and the main town is Knighton.
The East Radnor Ministry Area also includes what was once the the East Radnor Benefice and the New Radnor Group and our Beacon Hill Benefice. This includes fourteen churches.
Beguildy | Bleddfa | Heyope | Llangunllo
Knighton | Norton | Whitton | Pilleth | Cascob
New Radnor | Gladestry | Colva | Evancoyd | Llanfihangel Nant Melan
Priests for the East Radnor Ministry Area are:
Revd Petra Goodband
The Vicarage, Church Street, Knighton LD7 1AG
Tel: 01547 529254
07966 799546 (mobile)
Email: revpetra.goodband@yahoo.com
Revd Rachael Storer
The Rectory
School Lane
New Radnor LD8 2SS
Tel: 01544 350760
Email: RachaelStorer@cinw.org.uk
Wardens:
Situation to be announced shortly
Secretary
To be announced shortly
Treasurer
To be announced shortly
Health and Safety Officer
To be announced shortly
Locations of our four churches
The churches are shown on this map; click on a button to see name and address of the church and to get directions to or from it: