Date: 1942
Inscription:
In loving memory of Thomas Price
(Late of Knucklas)
Who died Aug 5th 1942
Aged 69 years
"Peace perfect peace"
and his wife
Date: 1986
Inscription: Sarah Jane Price
(Late of Upper House Knucklas)
Who died June 24th 1986
Aged 86 years
"At rest"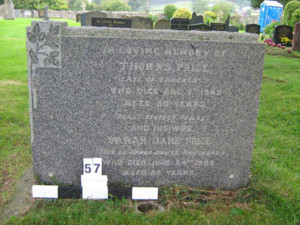 Date: 1942
Type of monument: Flat headstone standing on base with flower container. Flower motif on left hand corner of monument.
Dimensions of headstone: Height: 670mm to 695mm at highest. Breadth: 920mm Thickness: 13mm.
Orientation: Stone faces east
Material of monument: granite
Condition of stone: sound, in place.
Number of surfaces bearing: a) decoration: 1 b) inscription: 1
Type of decoration: Architectural, leaves.
Technique used for decoration: incised
Condition of decoration: sound
Technique used for inscription: incised
Condition of inscription: clear but worn
Decorative motifs: flowers and leaves
No indication of mason.