Date recorded:  8/9/09
Inscription
IN LOVING MEMORY OF
GEORGE GRIFFITHS
BWLCHY PLAIN
DIED SEPTBR 6TH 1912
AGED 80 YEARS
WHEN CHRIST THE SPIRIT KEEPETH THE WEARIED FRAME HATH REST
MARY ELLEN
DIED April 2 1919 IN HER 76TH YEAR
PEACE PERFECT PEACE
IN LOVING MEMORY OF
HERBERT GRIFFITHS
BELOVED SON of the ABOVE
DIED FEBRY 7TH 1912 AGED 39 YEARS
HE COMETH LIKE A FLOWER AND IS CUT DOWN
Click images to enlarge.
Earliest date (of death):  1912
Type of monument:  pedestal tomb with obelisk & urn, two step square base & kerbs with grown over infill chippings
Dimensions (in millimetres):
  a) monument/headstone:  height:  1420  breadth:  530  thickness:  46
  b) base:  height:  100 breadth:  680  thickness:  680
  c) kerbs:  length:  2330  breadth:  1820  thickness:  90
Orientation of monument/headstone:  East facing
Material:  Marble
Condition:  Sound, in place
Number of surfaces bearing:  a) decoration:  4  b) inscription:  1
Type of decoration:  Flowers & ribbon
Decorative motif/s:  Flowers & Ribbon
Technique/s used for decoration:  High relief
Condition of decoration:  Sound
Technique/s used for inscription:  Relief with lead
Condition of inscription:  Clear but worn
Notes:  Since the survey recording, the top of the monument has fallen as shown in this photograph taken in July 2014.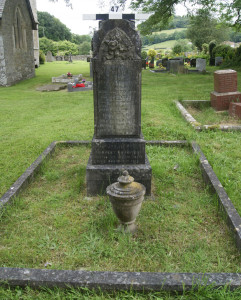 Click image to enlarge.