Current Services:
March 3. St David's Day Celebration. Service at 11am at St David's Heyope with Meinir Ronicle, followed by Festival Lunch at Knucklas Community Centre at 12.30 for 1pm.
March 6. ASH Wednesday, St Edward's Knighton 10.30am; St Peter's Evancoyd, 7pm.
March 31. Mothering Sunday, St Cynllo's, Llangunllo, Benefice Service, Rev Leigh Spicer, 11am.
Priest:
Canon Mark Beaton
The Rectory
School Lane
New Radnor
Tel: 01544 350342
Email: revmarkbeaton@gmail.com
Churchwardens:
Isabel Morris 01547 550689
Pam Livingstone-Lawn 01547 550
Organist:
Carwen Maggs 01547 550296
Llangunllo Church stands on an ancient site, reputedly near the monastic cell of the 5th/6th century patron saint, St Cynllo, a local Welsh 'saint'. It is in the heart of the old county of Radnorshire, in an ancient area (now the deanery) of Maelienydd. The present church is a fine Victorian rebuild of a medieval church.
St Cynllo's overlooks the Lugg Valley in the attractive village of Llangunllo whose houses cluster together, rather uniquely for this area of Radnorshire, where villages houses are usually scattered.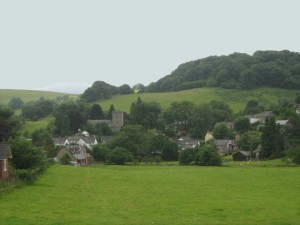 The nave and chancel were rebuilt in Early English style in 1878 by John Middleton of Cheltenham. The Early English style is characterised by the pointed, tall lancet windows. He employed some masonry from the medieval church, a 15th century doorway and a 13th century lancet window.
The tower and porch were rebuilt by F R Kempson in 1896. The church consists of a west tower, nave, chancel, north transept with store shed, and a south porch at the southwest corner of the nave.
Location:
The Church of St Cynllo's sits high on the hill in the heart of the village of Llangunllo. It is located on a minor road about three kilometres (1.75 miles) west of the A488 between Knighton and Penybont. It is approximately 8 kilometres (5 miles) from Knighton. Grid Reference: (Map Explorer 201) SO 712212