Priests:
Revd Petra Goodband
The Vicarage
Church Street
Knighton LD7 1AG
Tel: 07966 799546 / 01547 529254
Email: revpetra.goodband@yahoo.com
Revd Rachael Storer
The Rectory
School Lane
New Radnor LD8 2SS
Tel: 01544 350760
Email: RachaelStorer@cinw.org.uk
Churchwardens:
Situation Vacant
Organist:
Judy North: 01547 529165
Treasurer:
Ann Edwards: 01547 510631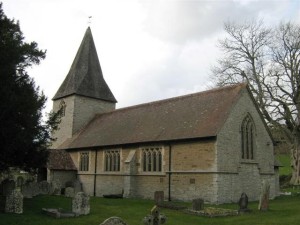 St David's Parish Church is located in the remote and beautiful Heyope Valley near the small market town of Knighton. It forms part of the ancient deanery of Maelienydd, in the diocese of Swansea and Brecon. It stands on raised ground; on the north side it overlooks the Ffrwdwen brook, a small stream which flows down to the river Teme. Between 1880 and 1882 the church was completely rebuilt to the design of the eminent Victorian ecclesiastical architect, J.L. Pearson, who designed pleasing church architectural features for this small country church. The even proportions and use of light create a serene atmosphere inside the church.
Location:
St David's Heyope is located on the minor road off the B4355, Knighton to Newtown. Take the Knucklas turning and continuing under the viaduct towards Heyope. It is approximately 5 kilometres (3 miles) from Knighton. Grid Reference: (Map Explorer 201) SO 746239.
Churchyard:
A plan of all the graves in the churchyard is available here with live links to details.
Details of all graves are here.