Internal Features at St Mary Magdalene, Bleddfa.


(Click a link or scroll down the page to see details.)
Roof
What any visitor will note when first entering St Mary Magdalene's at Bleddfa is the magnificent roof.
By the end of the 15th Century the western end of the nave, which had fallen with the tower, had risen again on its old foundations, and the porch and the magnificent timber roof had been added.  Inside the church, fragments of red and white paint can still be seen on some of the roof timbers, reminding us that in this pre-Reformation period even the simplest parish churches were gaily coloured and decorated.  
Altar rails & pulpit
The Reformation had far-reaching effects on parish churches; many were impoverished and their valuables were confiscated during the reign of Edward VI. The serpentine altar rails and some of the panels in the pulpit are said to be late 17th Century or Jacobean.
Back to top
Windows
By 1733 repairs had been made to floor, windows and roof. The image shows a fine 13th Century lancet window.

Back to top
Font
The 14th Century octagonal font stands below the 13th Century lancet window.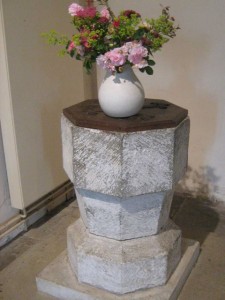 Back to top
Chest & bier
A fine parish chest is believed to be 18th Century and there is also a bier inscribed with the date 1736.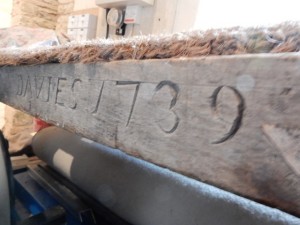 Back to top
Organ
Bleddfa Church has a fine musical tradition and in 2010 a large organ with an impressive range of sound was installed.
It was built by Lyndon Stephens and Graham George, a former churchwarden.
Back to top
Silver
The Church also has an Elizabethan silver chalice, and paten cover marked 1634 (the paten cover is to the right of the chalice).
The large salver, 9 inches in diameter, is undated. The centre is inscribed "Blethvaugh". Bleddfa – Bleddvach – Blethvauch – Blaiddfa – Bledewach – Blethevach are the many and varied spellings of Bleddfa used over the centuries.
By 1694 the parish records report that the church was sadly out of repair, but a pewter flagon dated 1694 is the property of the church. It is 10 inches high.
Back to top
Needlework
Kneelers: The kneelers have been lovingly worked by women in the village. They are taken from photographs of houses and buildings in Bleddfa.
Applique: The applique, hanging next to the organ is the work of women in the village, completed in April 2013.